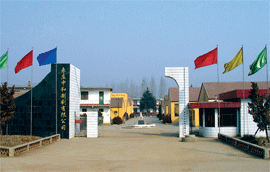 Zaozhuang Zhenghe Brush-Making CO., Ltd. (original Zaozhuang Zhenghe Brush-Making CO., Ltd) is lacated in the beautiful scenery of "township of the Chinese Pomegranate" Yicheng city, 80 kilometers away from Linyi airport, Xuzhou Guanyin airport 90 kilometers, 50 kilometers Beijing-Shanghai high-speed, 20 kilometers Beijng-Fuzhou high-speed. The geographical environment is superior, and the transportation has faciliated extremely.
This company more than 30 years, has engaged in the processing and export of paint brushes, industrial and daily use brushes, paint rollers and hardware tools. The annual production of paint brushes hit 4 million dozen, and 10 million pcs of paint rollers. The products are sold to Germany, France, Poland, Russia, Ukraine and so on several countries and regions.
This company since has been established, their pure Chinese bristles, other high quality materials, advanced skill, scientific management, full kinds and different grades meet the market demands. Their stable quality, favorable price and good prestige satisfied the buyers. Customers in China and abroad are welcome to contact with us.